You're the guest No. since April 22, 2000


<![if !supportEmptyParas]> <![endif]>
<![if !supportEmptyParas]> <![endif]>
TIME, April 3, 2000
Anita Hamilton
Gaga over Google
After years of searching, I fell in love with the clever little engine everybody's talking about
SOME PEOPLE MELT OVER WAFER-THIN NOTEBOOK PCS. OTHERS GET finger twitches thinking about their next death match in Quake III. But what really brings out the techno-geek in me is a killer search engine that finds just what I'm looking for, and fast.
<![if !supportLineBreakNewLine]>
<![endif]>
That's why Google has made it to the top of my bookmark file. The engine was developed by two Stanford Ph.D. students and named after the mathematical term googol, which stands for 10100.
The great thing about Google is that it works.
<![if !supportLineBreakNewLine]>
<![endif]>
I had a feeling there was something different about Google when not one, not two, but three different friends recommended it to me. "It's quick, and it gives you what you need," said my pal Maryanne. "It doesn't give you a bunch of garbage," seconded Unmesh, who was tired of wading through irrelevant listings on other search sites. Even better, the buz was backed up with awards from computer trades like PC Magazine, Yahoo!, Internet Life and the Net.
<![if !supportEmptyParas]> <![endif]>
It was love at first search. Unlike popular favorites Yahoo,Excite,and Lycos, which have morphed into monstrous slicer-portals offering everything from daily horoscopes to free e-mail, Google does only one thing--search--and does it spectacularly. Whether I'm looking for a home remedy for sinusitis or trying to find a long-lost friend online, it has an uncanny knack for locating what I want.
<![if !supportEmptyParas]> <![endif]>
The secret, says Sergey Brin, 26, Google's Russian-born co-founder, is its unique search technology. In a kind of high-tech popularity contest, Google ranks search results not by how frequently or prominently the search term appears on the Web link to the page with reference to that term. As a saftey measure, Google also analyzes the words around the link to make sure they're relevant to the original query.
<![if !supportEmptyParas]> <![endif]>
All this is invisible to users. What you will notice is that searches are quick (according to company statistics, they take less than half a second, on average), thanks in part to a graphics-free interface. The relatively few ads are text only and barely noticeable. Multiple results from a single site are conveniently grouped together. And you can preview the exact sentence containing your search term before clicking on the link--a real time-saver.
<![if !supportEmptyParas]> <![endif]>
Brin shared a few search tips with me. If you are looking for a precise phrase or name, put quotes around it. If you run across a link to "page missing," just click the CACHED button below each listing to retrieve an earlier copy of the page saved to Google's server. And if you see a link that looks especially useful, click on the GOOGLESCOUT button for more like it.
<![if !supportEmptyParas]> <![endif]>
Of course, as much as I like Google, I know other sites have some handy features that Google doesn't offer. If you want to search specifically for MP3 or image files, Altavista and Lycos are the places to go. Altavista also lets you search in 25 languages and has a handy translation feature. Hotbot is great for advanced users who want to fine-tune their searches by everything from date ranges to file types. And for broad searches of, say, exotic birds, Yahoo's orderly directories help focus your thinking into manageable subtopics. But for everyday queries, make your life easy: just go to Google.com.
<![if !supportEmptyParas]> <![endif]>
<![if !supportEmptyParas]> <![endif]>
<![if !supportEmptyParas]> <![endif]>
<![if !supportEmptyParas]> Footnote of this article:
"For the latest news on search engines, visit http://www.searchenginewatch.com .
Questions for Anita? Send e-mail to hamilton@time.com
So I e-mailed to Anita, on June 10, 2000. My e-mail:
Hello Anita,
How do you do? Let me introduce myself.
My name is Ken Matsuoka. My features could be more quickly
grasped by using Yahoo to search my websites with key words
Utsunomiya, Ken Matsuoka, or even more quickly Altavista and Google with just
Utsunomiya.
I am contacting you because I was very excited to find in your
article "Gaga over Google", Time Asia Apr. 3, 2000, exactly what
I have found. Yes, Google is great, "love at first search", Google
offers such an advantage of quick, spectacular search that such
popular favorites like Yahoo look a waste of time.
In fact, I have learned this the hard way. I had tried repeatedly but
in vain to apply for add URL with Yahoo for my site Excel Monthly Calendar
while Lycos, Altavista, AOL and, of course Google was listing it by late December 1999,
on top of their search result. It is only this couple of weeks since
Yahoo at last listed it, on top of their search list.
With your permission, I have posted your article on my webpage.
Now I am going to access searchenginewatch.com.
Have a nice weekend.
******************************
Ken Matsuoka

I was then searching "Utsunomiya" on Yahoo, on July 7, 2000,
when this popped up into my eyes.
Oh my God!
Yahoo is now "powered by Google" .
And my web page is ranked ...........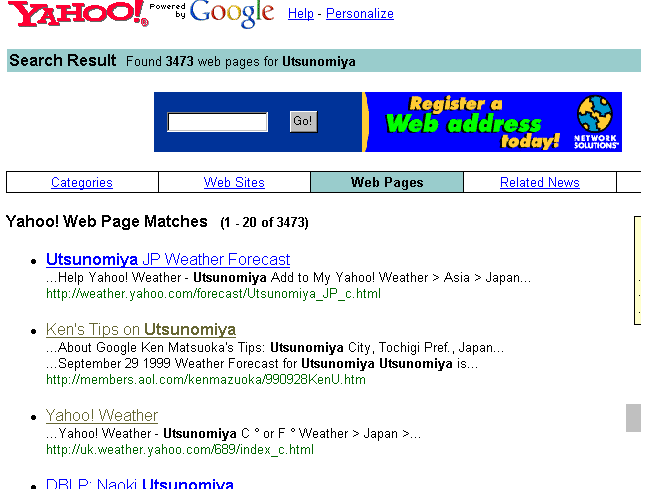 April 21, 2001 It's been a year since my first listing on Google.
Google kenmzoka Web Site Listings Update
mailto: ken_matsuoka@hotmail.com